New & Used Organs and Speakers
NEW ORGANS FROM TOP BRANDS
We are authorized dealers for the following brands:
At Organ Music Center, you'll find the Organ Room: a space where you can try out the finest Hammond, Crumar, and Viscount organs side by side, allowing you to appreciate their qualities and differences and make the best choice.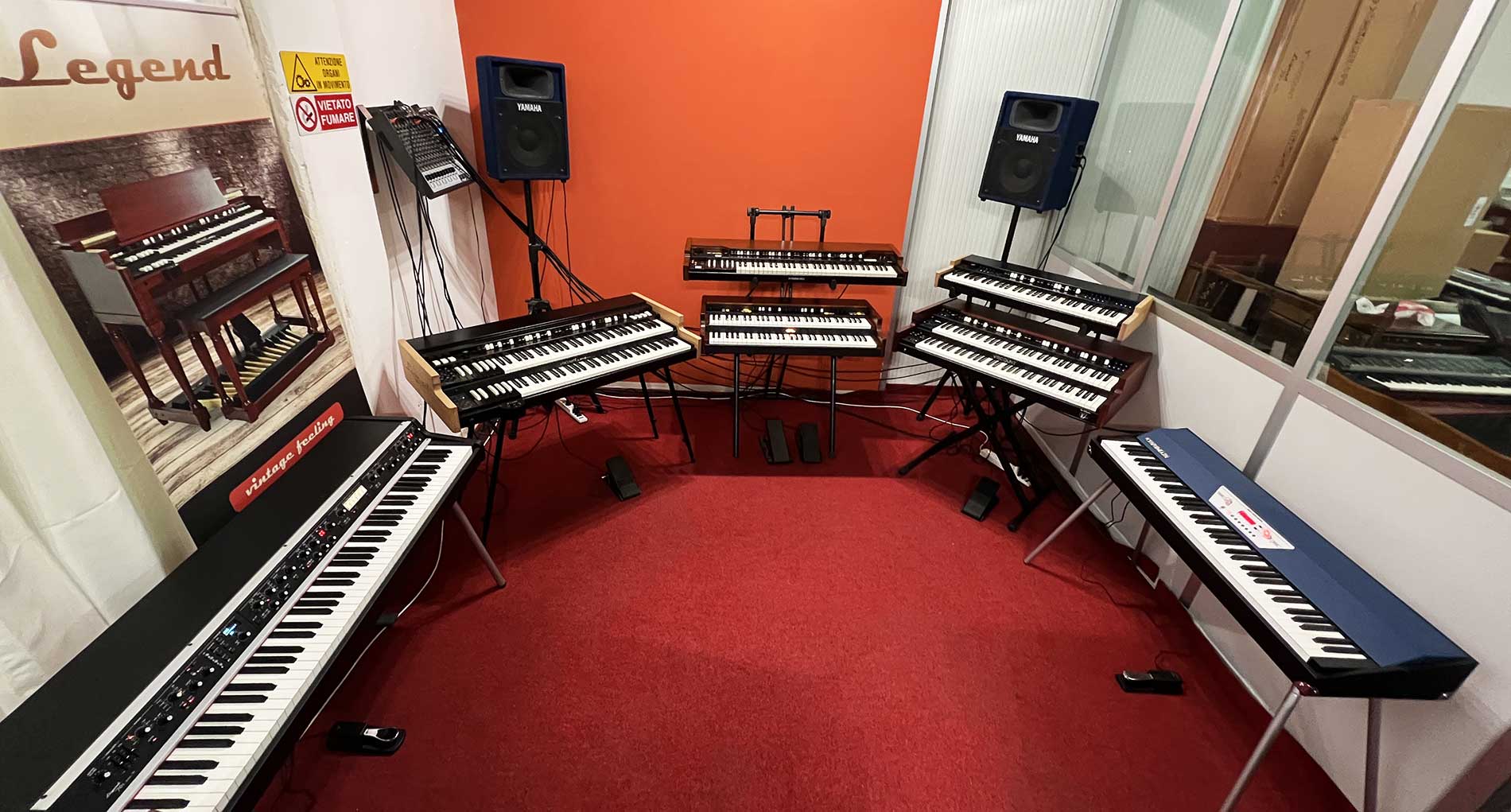 Furthermore, at our store, you can also discover the latest generation of the best rotary speakers designed by Silvio Della Mattia: the Tornado 115 and the Viscount Vortex 315.
REFURBISHED SECOND-HAND ORGANS
At Organ Music Center you can find a wide range of vintage organs – Hammond as well as other brands – and Leslies.
Given the huge demand for Hammonds, we always have an extensive selection of models in stock to satisfy every need: B3, B2, C3, C2, CV, A100, A105, A122S as well as the L, M, and T series; Leslie 122, 142, 145, 147, 251, 31H, 22H, 51, 47 tube-amplifier, as well as transistor models such as the 760, 770, and 710.
Prior to delivery, every organ and speaker is carefully taken apart and reconditioned and new components are fitted when required.
The organs made in the USA which run on a 117 volt/60 Hz power supply are adapted to European standards (220 volts/50Hz) by means of a frequency converter and an internal transformer built to our specifications, which allow the instrument to be powered directly from the main switch without having to unplug it from the mains and without the need of an external transformer on the floor.
The American-made Leslies are also fitted with a power transformer running on 220 volts/50Hz and the motor's pulleys are replaced with brand new ones made in aluminium to our specs and by our own trusted craftsman.
Do you have any questions?
We offer free consultation for buying and selling, both over the phone and via email.
Do you have a vintage organ to sell?
Given the high number of musicians and enthusiasts visiting our showroom, we also offer the opportunity to display vintage keyboard instruments for consignment sale.
CONTACT US
for model availability, prices, and information