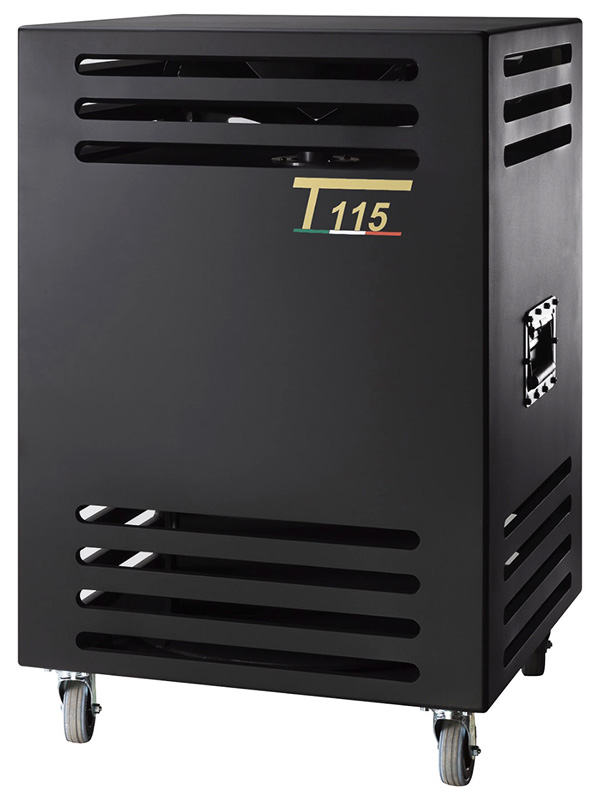 The new Tornado 115 is a rotary speaker specifically designed for organs, using high-quality materials and components. It is custom-made for discerning organists who demand high performance and excellent tonal quality.
The Tornado 115 has proven to be an extremely reliable rotary speaker capable of delivering exceptional performance in any environmental condition, thanks to the high-quality of its components, compact design, and lightweight construction.
The Tornado 115 features a 15″ woofer paired with a high-quality driver, delivering exceptional tonal richness in the low frequencies akin to vintage American-built rotary speakers. The high-frequency horn and bass rotor are powered by a pair of extremely quiet, low-voltage motors. These motors are controlled by a microprocessor circuit that maintains a constant speed in both modes (slow and fast), including acceleration and deceleration times.
The speed can be selected using an included pedal. Two LEDs indicate the selected mode: off/stop, yellow/slow, red/fast.
Through a dedicated selector, you can adjust the horn speed to normal, 5% slower, or 5% faster. The horn can be stopped randomly or with a selector-based adjustment.
The rotation of the bass rotor can be deactivated independently of the horn using a dedicated selector.
Upon request, cables can be provided to control the operation of the Tornado 115 using either a half-moon or an 11-pin cable.
SPECIFICATIONS
AMPLIFIER: internal, handcrafted
CLASS: AB1
TUBES: 2 x 12AU7, 2 x 6550
POWER: 80 watt / 16 Ohm
CONNECTIONS: ¼" jacks or 11 pin connector upon request
CONTROLS: volume, bass e treble, distortion, speed change via pedal (included)
MIDI IN: it receives on CONTROL CHANGE #1 with these values: from 0 to 30  slow, from 30 to 95  stop, and above 96 fast
SPEAKERS: 1" ferrofluid tweeter; 15" ferrite woofer 
DIMENSIONS (LxHxD): cm. 48 x 52 x 75 cm including wheels
WEIGHT: 32 Kg
POWER SUPPLY: 230 AC 50/60 Hz; 100 AC or 115 AC upon request